Coffee & Chocolate Cheesecake
Coffee, Chocolate & Cheesecake... Three great flavors blended into one decadent dessert. This cake is so rich in flavor, one slice is sure to do the job in satisfying your sweet tooth. There is no better way to end your day.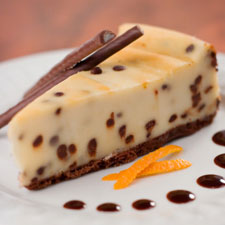 Ingredients
For 10 people
12

ounce(s)

cream cheese

1/2

cup(s)

granulated sugar

3

eggs, room temperature

3

ounce(s)

milk chocolate, coarsely chopped

7

tablespoon(s)

heavy whipping cream

2

tablespoon(s)

coffee flavored liqueur

1/2

cup(s)

whipped cream

1

ounce(s)

semisweet chocolate, shaved
Directions
Heat oven to 300 degrees.
In a mixing bowl blend cream cheese and sugar until smooth. Beat in the eggs, one at a time. Mix in 3 tbsp. whipping cream and the coffee-flavored liquor. Pour into an 8-inch glass pie pan.
In a small saucepan, melt the chocolate with remaining 4 tbsp. whipping cream.
Drizzle chocolate in a spiral pattern over filling. Stir lightly with tip of table knife to achieve a marbling effect. Set the pie pan in a larger pan with water that comes halfway up side of pie pan.
Bake at 300 degrees until firm in the center, about 55 minutes.
Cool completely and refrigerate, covered with plastic wrap, overnight. Garnish with whipped cream piped around edges and shaved chocolate in center.
Nutrition facts
Kcal: 472.78 kcal
Fibers (g): 1.72g
Sodium (mg): 187.77mg
Carbs: 41.8g
Fat: 30.8g
Saturated fat (g): 18.76g
Proteins: 7.05g