Brandy Cake
Get ready for a brandy new dessert. Be assured that there will be absolutely no rum running away from this tasty cake that's great for any occasion or even no occasion at all. No matter how you slice it, it's downright delish.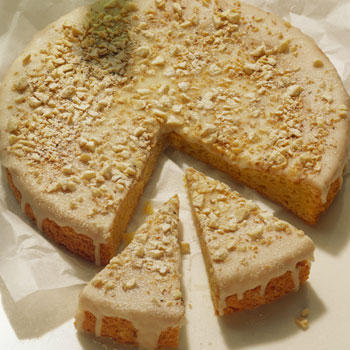 Ingredients
For 12 people
6

eggs, beaten separately

1

cup(s)

butter

2

cup(s)

sugar

1

teaspoon(s)

ground nutmeg

1

teaspoon(s)

salt

3

cup(s)

cake flour

2

cup(s)

walnuts or pecans, finely chopped

1 1/2

cup(s)

raisins

8

floz

brandy or bourbon
Directions
Preheat oven to 300 degrees. Grease and flour a large Bundt-style or ring pan. In a large mixing bowl, add 3 egg yolks, one at a time, beating well after each addition. Add the sugar and beat until light and fluffy. Set aside. In a separate bowl, beat 3 egg yolks, one at a time, beating well after each addition. Add the butter and beat until white in color. Combine both mixtures in a single bowl. Stir together flour, nutmeg and salt until well mixed. Gradually add to batter, mixing well. Soak the raisins in the bourbon and roll the finely chopped nuts in a little flour; stir into batter. In a clean bowl, beat the 6 egg whites. Gently fold the beaten whites into the batter. The batter should be thick and heavy, but a small amount of water can be stirred in if needed to make a batter which can be stirred smoothly. Bake in a 300 degrees oven for 30 minutes, then reduce heat to 275 degrees and bake for 2 to 2 1/2 hours or until cake has begun to pull away from the side of the pan.
Nutrition facts
Kcal: 514.58 kcal
Fibers (g): 1.02g
Sodium (mg): 659.3mg
Carbs: 68.58g
Fat: 20.63g
Saturated fat (g): 10.75g
Proteins: 7.2g