Table for 10: Learning How to Set
SPONSORED: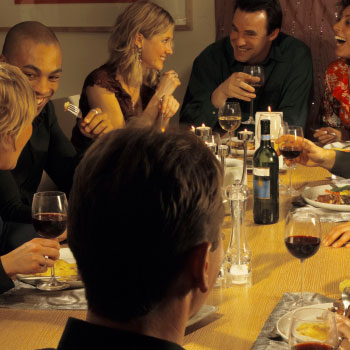 There is nothing more inviting when sitting down to eat than seeing a properly set table. Whether you are enjoying a simple meal with family, celebrating a special holiday or throwing a formal dinner party you can create the perfect look by learning how to set a table. Setting a table can be as simple or as creative as you like. And don't be intimidated by all those different forks, knives and other utensils. We've broken it all down into plain English and easy-to-follow step-by-step instructions!
Basic Table Setting
Life keeps us busy, but when we finally do sit down to eat together, there is nothing nicer than a perfect dinner setting. No matter how fancy or simple your tableware and silverware is, there is a basic table setting that anyone can learn.
Your dinner plate is the center of your table setting. On the left-hand side of your plate you will place this silverware in the following order going from left to right:
Salad fork
Dinner fork
Dessert fork
On the right-hand side of your plate, you will place this silverware in the following order going from left to right:
Knife
Small Spoon
Soup Spoon
| | | | |
| --- | --- | --- | --- |
| | | | |
---